Nice Things the Critics Are Saying
About There's a Frog in My Throat!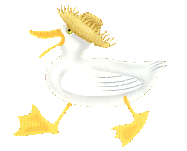 "Just ducky!...More fun than a barrel of monkeys!"
-- Booklist (Starred Review!)

This book is just ducky! It's the cat's pajamas! In fact, it's more fun than a barrel of monkeys! These enthusiastic endorsements are among the many animal expressions defined in this unusual collection that maximizes the humor of sayings that are common to English usage but nonsensical if taken literally. And take them literally Leedy does in her hilarious art. A "social butterfly" wears a party hat and has a balloon; a "clotheshorse" is a handsome stallion, in a top hat and men's shoes, shown tying a tie. Even the page numbers are part of the fun: the number for page 24 appears in a 24-karat gold egg lying beneath the goose that laid it. This same bird is pictures with a thought bubble in which she imagines herself served on a silver platter: "My goose is cooked." The illustrations continuously work together in this way -- up, down, and across the double-page spreads, which are loosely arranged by themes according to their animal subjects, from house pets to farm stock to wild critters. To round things out, each boldface figure of speech or phrase is accompanied by a succinct explanation, making the book useful for classroom enrichment as well as great fun for personal enjoyment. Even students older than the target audience will like this; it is, indeed, a volume to crow about! -- Ellen Mandel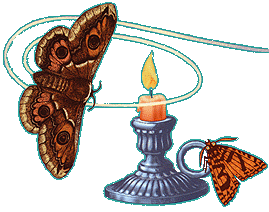 "Like a moth to a flame...readers will find themselves captivated."
-- School Library Journal

Like a moth to a flame, readers will be drawn to this entertaining book. The sayings are loosely grouped by types of animals-domestic, barnyard, winged, etc.-and each adage is accompanied by a short definition. For example, "It's raining cats and dogs. It's raining hard." Numerous sayings are scattered over each spread and illustrated with small, full-color pictures in a variety of styles. While this format might seem overwhelming at first glance, children will pore over the pages. The collaboration of text and art makes the volume lively and humorous. The index is arranged by animal rather than by adage. This title is perfect for anyone who wonders about the meaning of everyday expressions, and it makes a good language reference tool. Readers might come to this book for a specific saying, but will find themselves captivated by the engaging text and great illustrations. (Grades 2-6) -- Susan Marie Pitard
"The cat's pajamas!"
-- Kirkus Reviews

[There's a Frog in My Throat! 440 Animal Sayings a Little Bird Told Me] is is a compendium of familiar and not-so-familiar sayings that have to do with animals, from "we're off like a herd of turtles" to "the tail end".... The sayings are illustrated by bright vignettes that differ in style to provide both variety and to suit the saying.... [The meanings] very rarely rely themselves on idiomatic expressions, making them clear and easy to understand. An authors' note at the beginning explains the different types of sayings, from simile and metaphor to idiom and proverb. [T]his perky little volume...will provide substantial browsing pleasure to both animal lovers and children curious about language. The cat's pajamas! Nonfiction. 6-10 (February 1, 2003)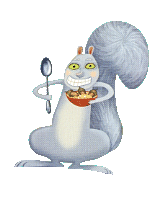 "Bright-eyed and bushy-tailed readers should have a whale of a time!"
-- Publishers Weekly

Leedy (The Furry News) and Street offer a hearty roundup of animal-related idioms, similes, metaphors and proverbs, organized by habitat....Many of these expressions lend themselves to comic visuals, which Leedy ably provides. For the "On the Farm" section, a scowling fowl "as mad as a wet hen" bellows at a chick: "I don't want to hear another peep out of you!"....Though many of these expressions will be familiar to youngsters, other lesser-known phrases will enliven their vocabularies....bright-eyed and bushy-tailed readers should have a whale of a time perusing these diverting, creatively cluttered pages. Ages 6-10. (March 2003)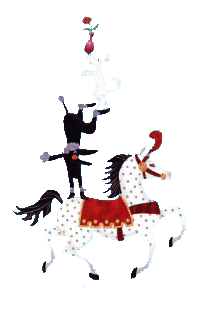 "Impressive indeed!"
-- Bulletin of the Center for Children's Books

From dog-eared pages to the cat's pajamas, from going hog wild to smelling a rat, from clammy hands to crow's feet, this compendium of faunal metaphor is impressive indeed....There's some very clever logic in the layout.... There's no niggling over derivations -- just comically literal pictures and on-point explanations of how the sayings are used today. An index leads readers to their favorite beasties, but the direct approach isn't near as much fun as a leisurely browse. (EB, April 2003)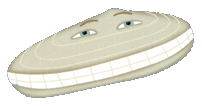 "Unfailingly fascinating...sure to leave everyone as happy as a clam."
-- Orlando Sentinel

The cat's pajamas! What does it mean when a person is described as being "pigheaded," or when someone complains about being "buffaloed"?....Loreen Leedy and Pat Street, Central Florida writers, have done themselves proud with this unfailingly fascinating compendium of animal sayings and their meanings. Their range is vast, and their selections will have great appeal....Titusville artist Loreen Leedy's lively illustrations, moreover, are brilliantly interpretive, sure to leave everyone "as happy as a clam." -- Nicholas A. Basbanes (April 13, 2003)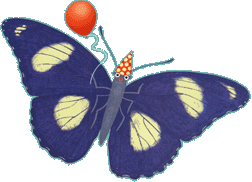 "The mix of wordplay and whimsical illustration
will delight kids and grown-ups alike."
-- Brown Alumni Monthly

Anyone who's tried to explain to a preschooler what it means to be happy as a clam or snug as a bug in a rug will appreciate the wit and clarity of There's a Frog in My Throat, by Pat Street '62 and Loreen Leedy. In this hilariously illustrated dictionary Leedy and Street define 440 (mostly) common English sayings about animals -- pigs in pokes, eager beavers, Queen bees, social butterflies, and the like. Some of the expressions are clearly aimed at adults ("Big hat, no cattle" and "Does a chicken have lips?" come to mind) but the definitions are clear enough to please the most demanding children. The mix of wordplay and whimsical illustration will delight kids and grown-ups alike. And for those of us whose heads are full of cobwebs, there's an index. -- Charlotte Bruce Harvey (March-April 2003)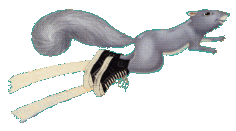 "A colorful leaping-off point for increased literacy."
-- Richard Lederer, author of Anguished English, co-author of The Biggest Book of Animal Riddles

A gateway to literacy through beastly fun! In There's a Frog in My Throat!, Loreen Leedy and Pat Street capture the animals that run and leap and swim and fly and crawl through our beastly English language. Loreen's sprightly illustrations and [the authors'] on-target choices of animal expressions and clever clustering encourage children to have fun with idioms -- a colorful leaping-off point for increased literacy. (February 2003)

Please note: All images on this part of my website are copyrighted 2003 by Pat Street and/or Loreen Leedy.