Pat Street: Collage Artist
---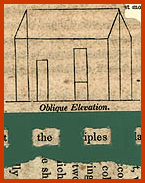 Collage artist Pat Street uses antique paper items -- maps, tickets, photos, letters, playing cards, sheet music, postcards, and text and images from old books -- to create witty, evocative collages with a contemporary edge. See her Collage Gallery pages for available works in both traditional and digital collage.

For her digital collages, so as not to harm the fragile old paper items, the images are scanned into the computer and then refined and/or arranged using Photoshop. The final piece is output on a high-resolution inkjet printer, using an archival inkset on special fine-art paper.


Please note: All images on this part of my Web site are copyrighted 2001, 2002, and 2003 by Pat Street.